Toothgrinder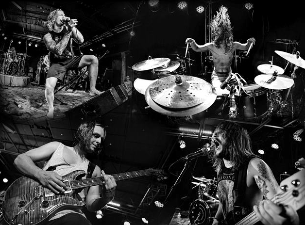 Toothgrinder was created in 2010 by a group of musicians wanting to hit the music scene with something broader and more inventive than had been previously done by each in the past. Toothgrinder resides in Asbury Park, NJ and has recently won Best Heavy Rock Band (2010,2011,2012,2013) and Best Drummer (2011,2013) by the Asbury Park Music Awards.

On July 22nd, 2011 Toothgrinder released its first official EP "Turning of the Tides", recorded at The Hang Zone, engineered and produced by Paul Ritchie, and mastered by Roger Quinn. The album is available for download on our Band Page.

On December 21st, 2012 Toothgrinder released their sophomore record titled "Vibration/Colour/Frequency". The record was mixed and recorded by The Parlor Mob's Paul Ritchie and Mastered by established DJ Roger Quinn.

We hope to be the unstoppable force in the music scene that everyone wants and desires from a band. With that, we have one last message for you:

LIVE TO GET RADICAL!!!